Digital Marketing for Fencing Contractors!
Are you looking for ways to grow your fencing business and attract more residental clients? Look no further than YPC Media. Our team of marketing experts specializes in creating tailored marketing solutions that help fencing contractors like you stand out from the competition and achieve their business goals.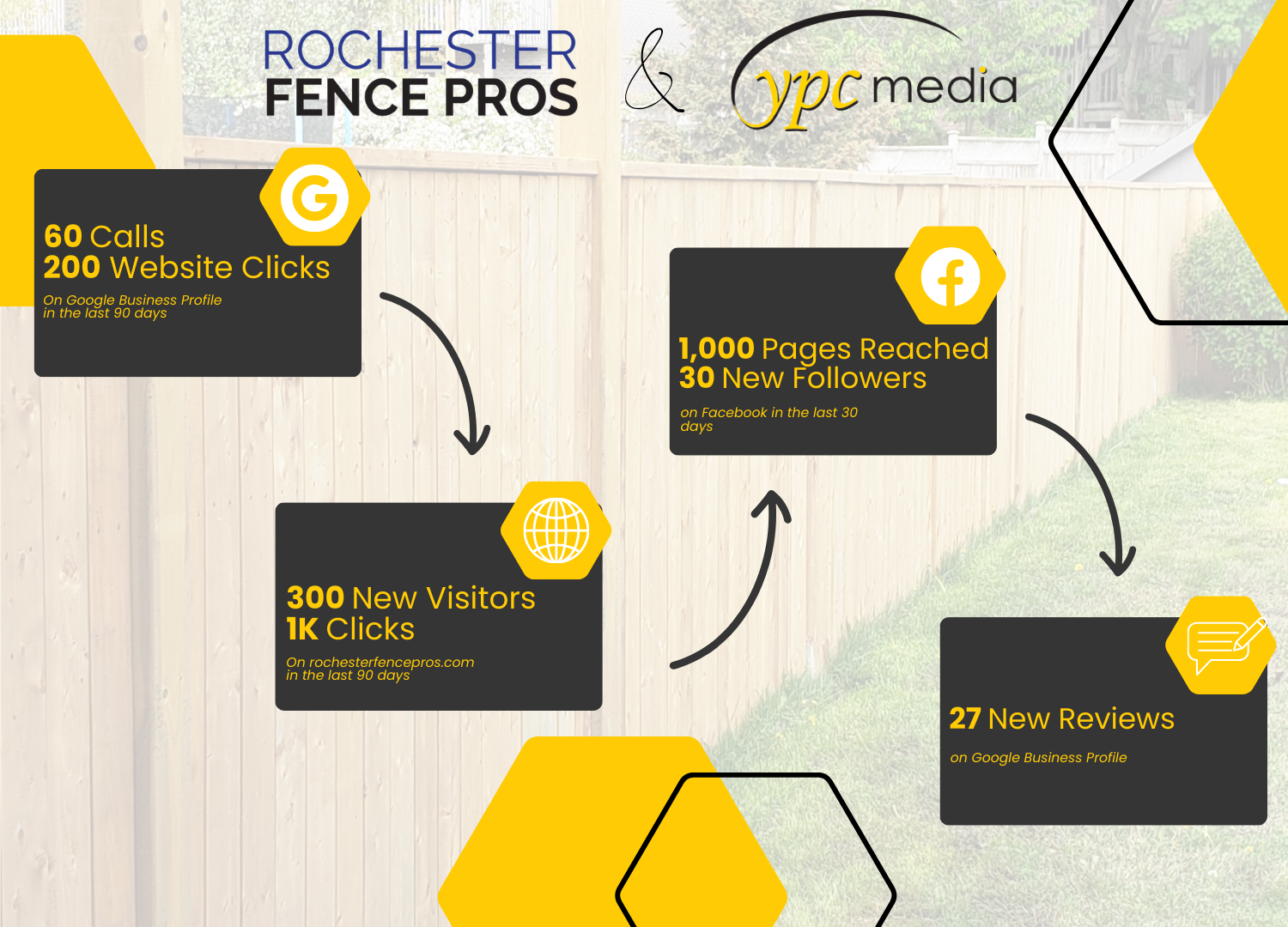 SEARCH ENGINE OPTIMIZATION
SEO is a marathon, not a race –   It takes time, diligence, and consistency to get results. SEO practices are the most cost effective products in the long run, and the first step to get your business found by potential customers.
Speedlisting Network/ Smartlistngs Network

– Both of our business listing products; Speedlisting Network and Smartlistings Network, add, correct, and lock down accurate business information on over 80 directories.  When Google finds conflicting/inaccurate information about your business on the internet, they do not "trust" the business.  As a result, they will not show the user that is searching for services your business profile. When consistent business information is found across many directories, Google will trust the business and will begin to show your listing higher in search results.   

Google My Business

– Our Google My Business product optimizes your business profile, provides you tools to help you get more positive reviews, and will publish pictures and special offers monthly to the page for your customers to see.

Reputation Management

– It is important to answer all reviews received in a timely manner – regardless of whether they are positive or negative. Our google certified team will help make sure your online reputation is protected.

30 Second Video

– We will create a 30-second video for your company showcasing your products and services. After adding a professional voice-over, the video will be added to YouTube, Vimeo, and all relevant directories!

Testimonial videos

– We highlight your best google reviews in a 30-45 second video which brings credibility to your business so potential consumers choose you over your competitors.
WordPress Website

– We take your vision and turn it into a mobile ready website that illustrates to a potential customer why they should choose your business.  The websites we create include SEO rich keywords that help your business be found by potential customers. As part of the website creation process we help you choose an appropriate domain, purchase the domain, provide changes to your site throughout the year as needed, and host the website for you.

Social Media

– Our Facebook Certified Team creates business specific posts for your Facebook page, these posts are scheduled to be published at optimal times during the year to get potential customers interested in your business and encourage engagement within your community.

Logo Creation

– We help you create a customized logo that represents your business and will be recognized by potential customers.
PAY PER CLICK ADVERTISING 
These programs allow us to narrow the focus and target the specific type of customers you want in the specific area you want.
Google Ads Campaign* –

Includes creation of a landing page and a Google Certified team member setting up and managing a google ads campaign to ensure the best results possible

Facebook Ads Campaign*

– Our Facebook Certified team creates keyword rich images and ad copy that circulates across Facebook through targeted demographics to draw potential clients to your Facebook page
*adjustable monthly ad spend is an additional cost
Our products are only as good as the results we can show you and the service we provide when things are going well AND when things need to be altered.
Real Time Reporting

– We provide Real-Time Reporting with a live link, showing the business owner up to the minute results for the products and services they have purchased.

Designated Account Manager

– All our products are backed up by a dedicated Account Manager that is available to discuss your account and make adjustments at any time.
Clients we've been able to work with
Years as a Rochester top 100 company